What is a Risk Load Analysis?

A Risk Load Analysis is a tool that school leaders are using to illuminate the nuances of poverty and community challenges that their students and staff face. School administrators use Risk Loads to make resource allocation decisions that result in better schools based on the educational needs of their students.
---
ALLOCATE PEOPLE, MONEY, MATERIALS AND TIME FOR YOUR SCHOOLS BASED ON UNIQUE STUDENT NEEDS WITH A
Risk Load Analysis
---
A Risk Load Analysis Reveals A More Detailed Picture of Educational Disadvantage
Researchers in other parts of the country have begun to develop the concept of school "risk loads." Risk loads involve merging several sources of data, including Census data, to create a clear picture of both the challenges in the school's environment and the volume of those challenges. The more challenges a school faces, the greater their educational disadvantage.

Higher risk load = More challenges = Greater educational disadvantage
Here's how other Texas districts are using their risk load analysis:
Central-office administrators see new ways to strategically group schools for ongoing support and/or may redirect certain resources to schools to respond to their needs. Central-office administrators explore and examine the best practices occurring in schools with high risk-loads, but are meeting or exceeding academic expectations.
Newly assigned principals get a much faster "read" on the kinds of supports that their students might need. When long-standing principals see risk load information, it is as if their knowledge of the immediate community has just been mapped visually for the very first time. Risk loads also shed light on accountability ratings – particularly with the state using A – F letter grades as ratings. A rating of "B" can mean very different levels of success when risk loads are taken into account.
---
What's Included in a Risk Load Analysis?
A Moak, Casey & Associates Risk Load Analysis Report includes a detailed analysis of district and campus risk loads and STAAR performance. An analysis based on the student, not an attendance zone, so choice campuses and student transfers are accurately reflected in the analysis
A meeting with district leadership to review the report and discuss the impact of risk loads in strategic planning for the district.
A presentation targeted to campus leadership teams to introduce risk load analysis and the implications for campus planning.
Heat maps, control charts, quadrant charts, and a district risk load map to pinpoint educational need.
Individual campus heat maps for principals to use in school-wide discussions of risk loads.
…all of which is designed to improve teaching and learning in the district.
Here's just one example of an easy to understand data visualization that you'll receive in your risk load analysis: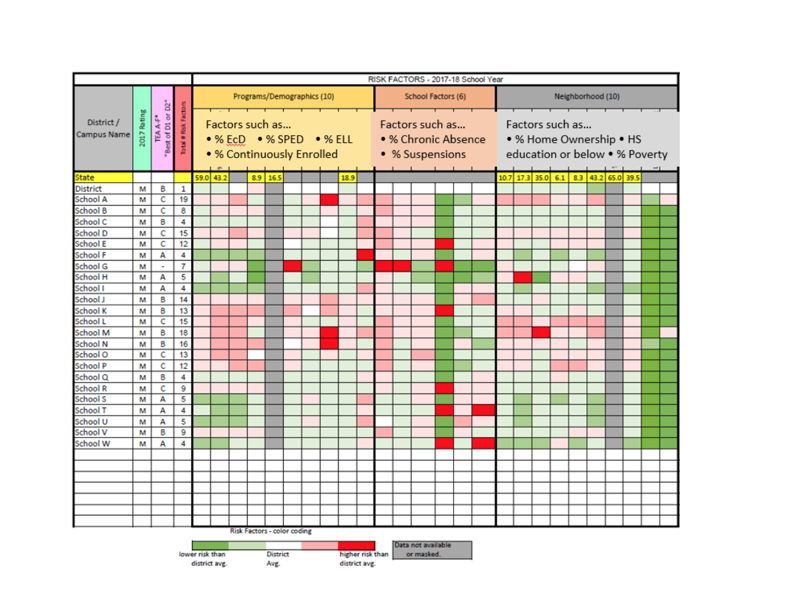 To learn more about getting a Risk Load Report for your district, please email Terry Faucheux at tfaucheux@moakcasey.com.